Get to know our American June GLOSSYBOX feature product, high beauty!
About high Beauty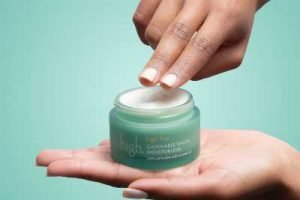 high is a revolutionary beauty brand powered by Cannabis sativa. high is formulated using only Cannabis sativa seed oil extracts and is 100% legal and free of psychoactive substances including THC & CBD.
Cannabinoids including CBD and THC are not found inside the seeds of industrial Cannabis sativa plants according to the United Nations Office on Drugs and Crimes 2009 report. The 2014 Federal Farm Bill authorized U.S. state-sanctioned programs and academic institutions to cultivate industrial hemp for research. The bill also differentiated industrial Cannabis sativa from marijuana due to negligible amounts of THC in industrial plants.
And before you ask, no, high cannot give you a recreational high or make you fail a drug test. The brand's formula does not contain THC (psychoactive) or CBD (non-psychoactive).
What is Cannabis Sativa Seed Oil?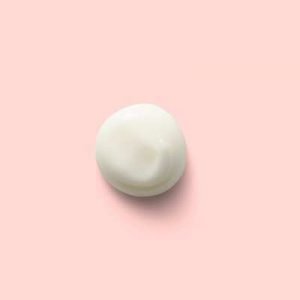 Cannabis sativa has an unequaled fatty acid profile of any plant in the world. Its unique concentration of essential fatty acids (EFAs), antioxidants and proteins nourish, protect, and renew skin in the most compatible and natural way possible.
Even more, its perfect 3:1 ratio of omega-6 (linoleic acid) to omega-3 (alpha-linolenic acid) EFAs help balance and repair the skin's natural barrier. Finally, Cannabis sativa seeds are a complete protein source with all twenty amino acids in combination with vitamins A, B1, B2, B3, B6, C, D, E and arginine. These essential compounds prevent free radical damage, protect skin with potent antioxidants and delay the aging process.
Cannabis sativa seed oil also has adaptogenic properties, helping balance all skin types.
What Cannabis Sativa Seed Oil Does for Your Skin
The benefits of high beauty's sativa seed oil is amazing! Including, but not limited to:
Helping calm inflammation
Balance all skin types with adaptogens
Protects with potent antioxidants
Hydrates and replenishes
Plus,  high is committed to using organic, natural ingredients. high will never contain parabens & harsh preservatives, petrochemicals, pesticides, BPA & phthalates, sulfates, GMOs & gluten, PEG, MEA, TEA, DEA, propylene & butylene glycols, silicones, artificial fragrances or synthetic colors & dyes. high also does not test on animals during any stage of production or development.
Trying Our high Beauty Samples!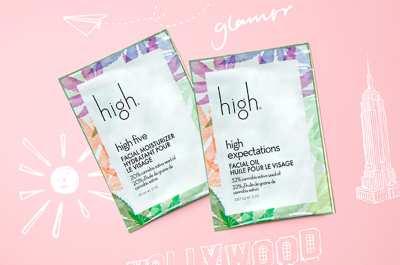 The high beauty packettes pack a punch in this month's GLOSSYBOX with the High five and the High Expectations products!
The high five facial moisturizer has 20% cannabis sativa seed oil to calm, balance, protect, hydrate and replenish skin, which is perfect for a summer beauty routine.  For intense repair and replenishment, the high expectations facial oil has 32% cannabis sativa seed oil yo soothe troubled skin.
If you love the brand, shop them on our partner's site, lookfantastic.com! You can save up to $5 with your GLOSSY CREDIT and even more with their site's sale on the brand!
Made in America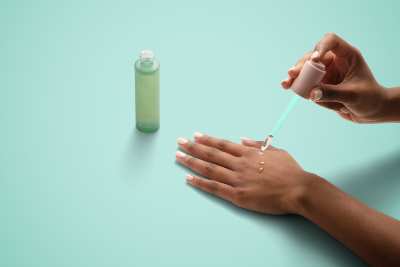 high is expertly formulated in America, specifically California, U.S.A.
high works hard to follow rigorous B-Corp principles because the brand believes in doing business in a way that benefits everyone.
Also, high is dedicated to using green practices in manufacturing and energy consumption.
Make sure to try out high and our other favorite beauty products from around the world in our June GLOSSYBOX!