This month is all about our 9th birthday, so we had to go all out. We can't wait for you to get your hands on all things pink, pretty, and beauty – everything that GLOSSYBOX is all about. Our August Birthday Edit even includes an extra special treat – the GLOSSYBOX Skincare Eye Boost Cream! 
You get the first sneak peek of our brand new GLOSSYBOX Skincare range, launching on August 12th. We're proud to say that this Eye Boost Cream and all of our other products are vegan and cruelty-free! 
The Eye Crea
m
 That Will Finally Solve Your Dark Circle Woes
Are you tired of struggling with dark circles and puffy under eyes? It's an issue that you constantly talk to us about, and believe us, we feel your pain. So, to celebrate our ninth birthday, we decided to create a treatment that would put an end to our eye-related troubles for good. Glossies, say hello to the Eye Boost Cream.  
We put a lot of thought into developing this eye cream just for you! Its lightweight, fast-absorbing formula will lock in moisture around your eye area, and make your tired, puffy under-eyes look brighter. It's the ultimate eye care treatment as: 
 

Elderflower extract helps to reduce the appearance of dark circles 

 

 

Eyebright plant extract works to refresh tired, puffy eyes 

 

 

Red seaweed creates a protective barrier that locks in moisture around the eye area 

 
This cream helps to reduce those bags and refresh tired-looking eyes. You can thank us later! 
Why You Should Look After Your Eye Area
Did you know that the skin around your eyes is 20 times thinner than the rest of your face? That's what makes it so delicate and sensitive. It's also why our under-eye area loses its elasticity and starts to show visible signs of aging first.  
Whether you're concerned about dark circles and puffy under eyes, or are hoping to reduce the signs of aging, you should be using an eye cream twice a day, morning and night, as part of your skincare routine.  
How To Use 
The
 Eye Boost Cream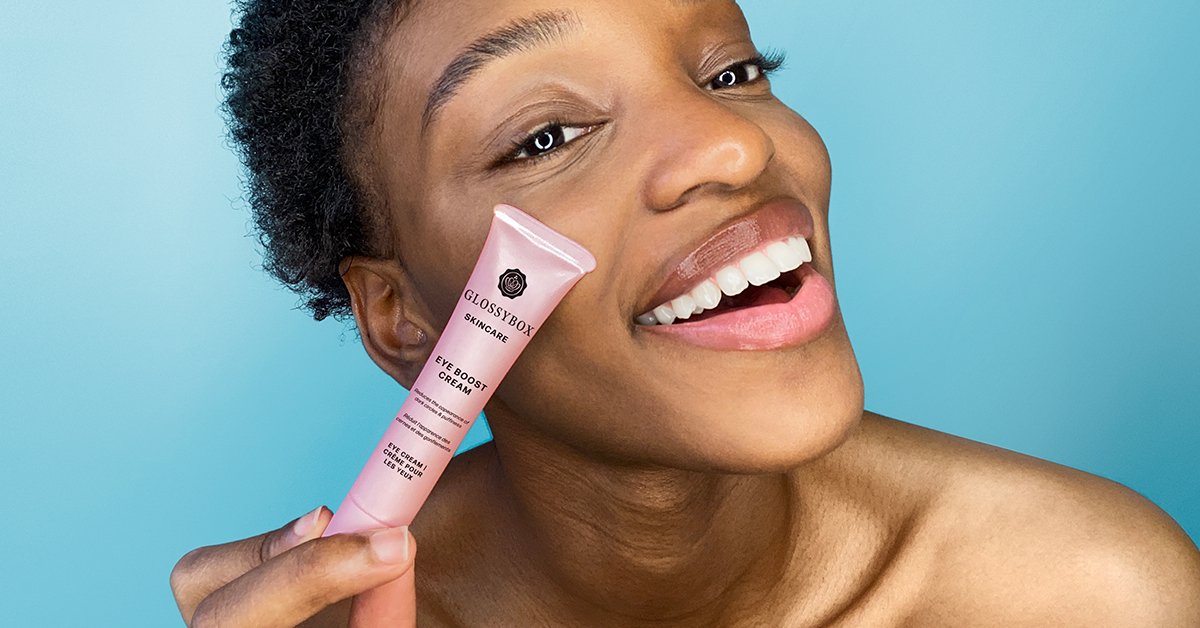 As your eye area is so delicate, you should always apply an eye cream carefully. Fortunately, this eye cream comes with a convenient nozzle that makes it really easy to use. Simply apply 3 dots of cream under your eye, then gently pat it into your skin, working it up towards your temples. You can use it morning and night before your moisturizer.  
Insider Tip: To avoid stretching the skin around your eyes and prematurely aging your complexion, avoid rubbing or massaging your eye cream in. Instead, always pat it into your skin until has been fully absorbed. 
About GLOSSYBOX Skincare 
Yes, you heard right – we are launching our very own line of skincare, designed to the meet the needs of our subscribers. Created using feedback and stories from Glossies worldwide, the 10 piece collection includes cleansers, moisturizers and targeted treatments to suit all skin types and ages. We've worked hard to develop a simple, yet effective range that is not only vegan and cruelty-free but also uses sustainable packaging made from 100% recyclable sugarcane (where possible), so it's better for the environment – as well as looking cute in your #shelfie! Did we mention it's affordable too? Everything is under $30 and subscribers get an exclusive discount.
Specifically, the eye cream will be $23, but GLOSSIES can snag one for $18! What a steal!
GLOSSYBOX Skincare will launch on Wednesday August 12th with subscribers getting priority access from at 12pm EST/9am PT before the general sale at 5pm EST/2pm PT. Sign up for our waitlist for more information!
If you're a subscriber, you'll also get an automatic 20% off the whole range!
Subscribe For GLOSSYBOX Skincare
To enjoy a 20% discount and priority access to our soon-to-be-launched skincare range, subscribe to GLOSSYBOX now.