In honor of national Be a Millionaire Day, we at GLOSSYBOX came up with some cool ways to look like a million bucks without breaking the bank. 
A Pretty Hefty Bill
According to one survey sourced from the Financial Diet, the average American woman spends $313 per month on her appearance. 
That may seem steep, but this number is broad on what 'appearance' applies to.
The above-mentioned amount is the average summary of the skincare, hair care, cosmetics and incidentals (salon visits) women spend to look their absolute best. 
Here are some ways our beauty experts cut down on their beauty spending without compromising beauty goals. 
Advice No. 1: Budget, Budget, Budget (And Create a List)
Always have a beauty budget and a shopping list for what you need. Our beauty editors suggest having both before shopping curbs impulse buying. 
Editor's Note: Some websites and stores send you a reminder to stock up on your favorite products with a coupon! Keep your eyes peeled for deals on stuff you already love! 
Advice No. 2: Considering a High-Efficacy, Minimal Routine 
Ever look at a well-off interior designed home and wonder "what a mess?". No? Most millionaires don't have clutter or excess (except for, well, the money they have) because they can afford higher quality items with significant longevity or experts to facilitate certain activities or goals. 
While hiring a maid or someone to clean out your beauty closet may not be on the table, consider eventually upgrading your skincare/beauty routine for higher efficacy products to achieve a more minimal routine. 
Editor's Note: Love some organization? Watch Safia Nygaard's video of getting her makeup closet professionally organized here!
Yes, you read that right, spend more to have less products? Here's the thing: while makeup and skincare don't have the same longevity as clothing, the effects on your skin matter. 
If you can find affordable and high-efficacy ingredient-based products, or products that give your skin and hair significant results after use, then great! If not, a bit of research and testing is in order to see what works, what doesn't, and what's worth investing in your beauty routine.
Editor's Note: There was a time when my haircare routine had 14 products for wash days and styling (a little over the national average on haircare products). After a product clean out, my routine went down to 7, half the amount I had!
For example, let's say you love having sleek, effortless hair. An average blowout can cost $45, and even if you only go to the salon 2x a month, that's $90 a month PLUS your at-home hair routine and products. That's over $1000 a year for sleek hair half the year.
But if you have a high-quality professional dryer and a smoothing serum on hand, along with bringing your hair routine down to a shampoo, conditioner, and mask (with heat protection), you can save that $1000 for a vacay or two. Or three. 
Advice No. 3: Ask (or pay) an Expert
Alternatively, asking help from experts directly is a great option as well. If your insurance covers it, a visit to your dermatologist for a skin consultation can work wonders for knowing your skin's health. 
For fine-tuning your skincare routine, visiting an esthetician with a bag of your products can help you figure out with products have and haven't been doing your skin any favors. Some products may be canceling the effects of each other without you realizing it! 
You can also invest in getting cosmetic treatments, such as a facial or extractions. Not only are some skincare treatments best left to the experts, but you can cut back on what you need to do to your skin at home if you're supplementing it with professional services. 
Also, don't feel shy to ask and watch how your stylist does your hair. No one is born a personal hairstylist, and asking how certain drying or washing methods are done can help you take care of your hair at home. 
Editor's Note: Most salons do sell the hair products they use on your hair. If you notice that your hair really takes well to a product, ask your stylist about it and see if you can snag a sample size to test! For a fun DIY tutorial on a blowout, watch hairstylist and brand founder Brad Mondo's video here!
Advice No. 4: Always Spot the Deal
It's no secret that most people that have a lot of money don't spend a lot of it. Follow their lead by always finding a deal when buying your skin and haircare.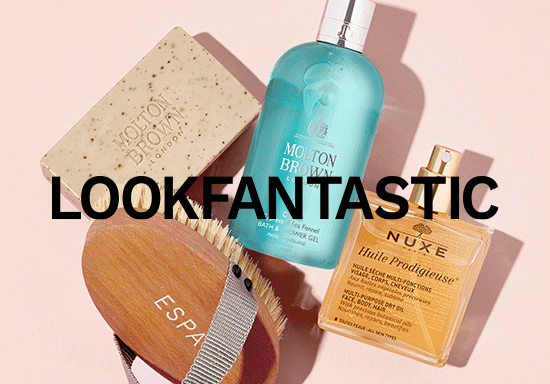 Those spam emails from your online shop may be grating after a certain point, but most emails from your favorite spots to shop have coupons, codes and deals for their loyal customers. Some sites also allow you to pay through AfterPay, taking your purchases and splitting them into 4 payments every two weeks. 
Editor's Note: While AfterPay is great to use, don't forget to still budget! You still have the full amount to pay off eventually, so don't forget to pay them.
Even our skincare brand, GLOSSYBOX Skincare, has a discounted price for our box subscribers! By keeping your eyes peeled on discounts, deals and freebies, you can extend you dollar or GLOSSY Credit really far on sites like LOOKFANTASTIC.com. 
Remember, you lucky GLOSSIES earn GLOSSY CREDIT with every review you write about your GLOSSYBOX products, complete monthly surveys, and refer friends! You can also use them on Limited Edition GLOSSYBOXES too!
For more GLOSSY CREDIT info, including how it works and how to sync your LOOKFANTASTIC account, check the 411 here!