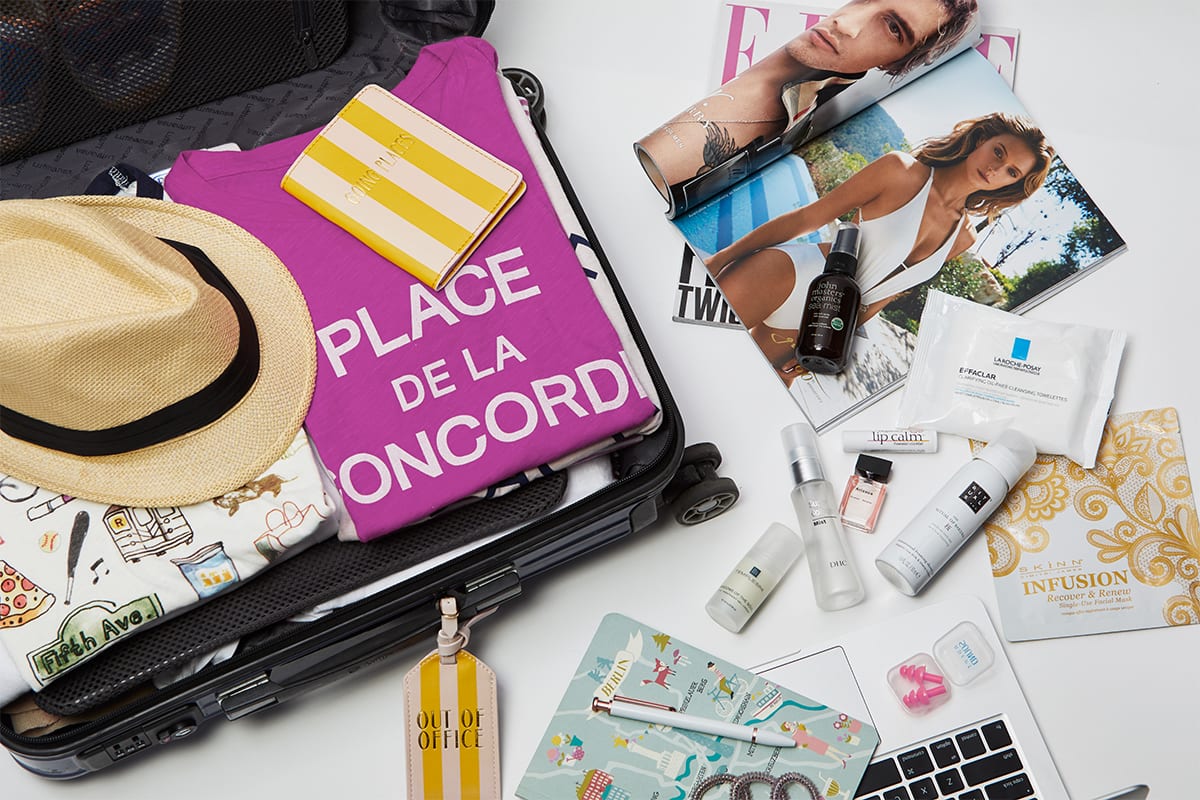 When it's time to get out of Dodge, you have to make sure you're covered on the beauty front with products that will make your traveling experience a little more GLOSSY. Although zipping around from place to place without a doubt imbues you with more inspiration, it can also put some real stress on your skin, hair, and overall health. Here, we'll share our go-to tips, tricks and remedies to fight the fatigue, dehydration and even the emotional toll associated with running to catch that train, plane or car to get to wherever it is your headed. Happy trails GLOSSIES!
John Masters Lip Calm
One of the first parts of your face that will lose moisture the minute you're airborne (or even on fabulous boat ride) is the delicate skin on your lips. Because sitting on a plane (or anywhere for that matter) with chapped lips is not OK for any of us, we always pack our favorite balm, John Masters Lip Calm, which is chock full of hydrating organic extracts like olive, jojoba, sunflower and borage oil, all of which are designed to soothe, soften and protect lips from dryness and damage. Even better? Your Lip Calm offers daily protection against cold and wind. Pucker up!
DHC Super Collagen
When you're traveling 30,000 feet over the horizon, your facial moisture depletes super fast and it's up to you to rehydrate ASAP. Give yourself some TLC with DHC's nutrient-packed Super Collagen. With a whopping 294 times the concentration of collagen found in traditional collagen-infused products, this high performance mist also contains five kinds of radiance-imbuing ingredients for skin, including vitamin C. Be sure to apply a nice healthy dose of the spray to your entire visage, adding another spritz every two hours if you're in a plane. An even sweeter benefit of this super cool product? It also contains five kinds of support ingredients such as vitamin C and maitake extract.
Rituals Mini Foam
There's not a lot of indulging when you're busy trying to get from point A to point B, but our friends at RITUALS are all about reminding us to take out a moment for ourselves, even if we happen to be rushing through a busy airport trying to catch that connecting flight. Take a short reprieve from the chaos surrounding you by whipping out your travel sized Rituals body foam in a calming scent like Japanese cherry blossom-infused Sakura and give yourself a fragrant cleansing moment while washing your hands, wherever you are. Trust us, you'll feel like a new woman.
La Roche-Posay Effaclar Towelettes
Let's be honest, sometimes when you're in the midst of travel madness you start to just feel meh, and need a refreshing beauty product to get back in your groove. We never travel without our La Roche Posay Effaclar Towelettes, not just because they are gentle and calming, but also because they clear away microscopic pollution particles, ensuring that our skin stays fresh and clean no matter where we're jet-setting. One swipe, many benefits!
Proenza Schouler Arizona Travel Size
Bringing a delicious scent on vacay with you is a must, but carting around a bulky bottle is not. Merge the best of both worlds with an oh-so-cute sized version of Proenza Schouler's debut fragrance, Arizona. The uplifting blend of fruits, flowers, solar notes and musk, will bring to mind burnt sienna sands, golden sunsets, and sweeping desert vistas. Breathe in and feel as beautiful as a summer day!
Skinn Recover & Renew Sheet Mask
Once you're seated on your vessel and can finally take a breath, you'll love this quick-fix beauty formulated to restore moisture levels and re-balance your skin. Look no further than this luxurious since-use facial mask, which is infused with soothing lavender, hydrating tamarind seeds, dried apples, skin-brightening Vitamin C, as well as lactic acid for mild exfoliation. Best used alongside a glass of vino.  
Temple Spa Windows of the Soul Eye Treatment Gel Cream
When traveling it's easy to look tired, and the first giveaway that you are running on empty (or suffering from jetlag) is usually your eyes. Prevent dark circles, puffiness and dry skin with this daily treatment that gently hydrates, brightens and soothes your delicate eye area. You'll also enjoy an immediate cooling sensation, as well as a noticeable lift to help relax lines and wrinkles.
Invisibobble SLIM
It's no secret that we never travel without our Invisibobble, and for good reason. Not only does this cult-favorite hair tie (that has all but revolutionized must-have accessory) promise no headaches, no creases and no tangles, but it also looks super sweet on your wrist. We love it for travel because we like to keep it comfortable and chic, thanks to its adorable ability to look like a cute accessory.
The Perfect Beach Bag: Our Summer Beauty Bag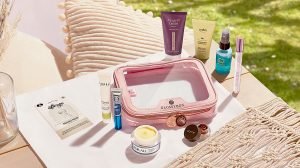 Last April, we at GLOSSYBOX did a little prank about having a GLOSSYBAG. But the fact that so many of you got excited about a GLOSSYBOX bag got us thinking at the office. And we decided to make that lighthearted April Fools prank into a reality.
Now, back for another year, our bag is full of beauty and skincare products from our favorite brands!