Valentine's season is more than just about celebrating love in the romantic sense – it is about cherishing love of beauty, food, arts, cinema and friendship. And what better way to show your adoration for these things than by hosting a Galentine's Night In with your girls?!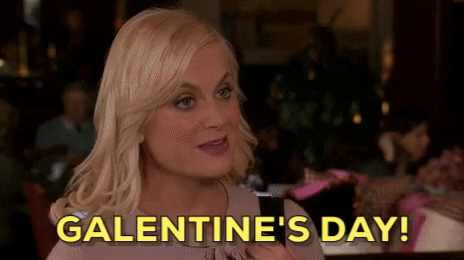 Ever since Leslie Knope from Parks and Recreation coined the term "Galentine's Day," ladies worldwide have gathered together the day before Valentine's Day for the best, most fab girls-night-in of the entire year. So, we are sharing our tips-and-tricks of how to throw the best soiree on February 13. We hope you enjoy!
Throw It Back A Bit
Bring some romantic vibes back to when snail mail was depended upon to express adoration. Want to send more than one invitation via mail? We're currently obsessed with Paperless Post's love-themed cards. Be sure to invite ladies you adore from all aspects of your life – whether they be co-workers who help you get through the day, the yoga instructor who brings balance to your life, your sister, the neighbor who always brings you cookies, your ride-or-die besties, old friends and new.
Set the Scene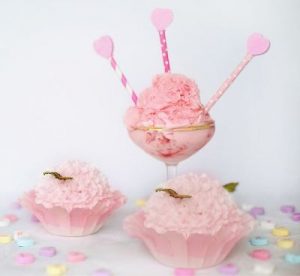 Your party should be laid out so people can mingle, chat and relax! Ensure there are separate areas for eating/drinking, socializing and sitting! Getting themed napkins and plating is an obvious. We also love the idea of setting up a mini-photo-op area. Simply go to a nearby superstore and purchase fun props (think heart-framed sunglasses, headbands, signs or bubbles), then place on a table near a backdrop in your home to encourage your friends to snap photos away and remember the fun they had at your Galentine's Night In! Oh, and don't forget candles! 
Pop it Like It's Hot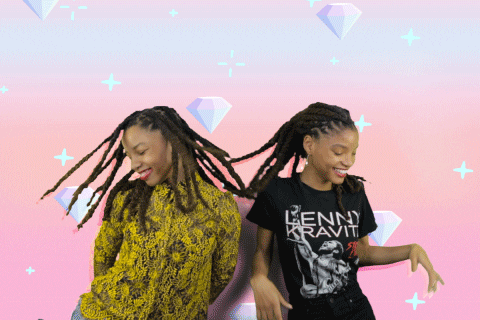 Give your girls something to snack on! But, keep it GLOSSY. Turn the traditional popcorn up a notch by making specialty popped mixes. For Valentine's Pop, take a bag of popcorn (we recommend Angie's BOOMCHICKAPOP original), and drizzle with both melted white & pink chocolate chips. Then, while the chocolate hasn't completely melted yet, top with pink sprinkles and Valentine's colored peanut M&Ms. Or, for a sweet and savory varietal, you can drizzle with a peanut butter and chocolate mixture, top with dark chocolate chips and mix in pretzels and crumbled potato chips! Serve in movie-theater inspired popcorn tubs or little bags.
Dripping in Chocolate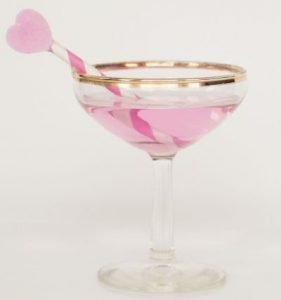 Now, what kind of party would it be without wine?! Select a few options of Rosé, Red and White for your ladies to choose from. Be sure to also have an assortment of Dark, Milk and White chocolate to add to the rims. For those who are sipping on red, pair the Cabernet's with the dark chocolate rims. If your friends love dark chocolate, but aren't a fan of the red varietal, try it with Zinfandel! Milk chocolate pairs delightfully with Reisling and we also love it with dessert wines. If white chocolate is more of their thing, try it with Pinot Noir for a surprisingly delicious pairing. 
Stream the Love
Plan a rotation of classic rom-coms to play in the background for your guests to watch! Here are our top 10 picks from streaming services and Amazon Prime:
Friends With Benefits
50 First Dates
Maid in Manhattan
Clueless
Win a Date with Tad Hamilton
We hope these ideas inspire you and you have bunches of fun this Galentine's Day! Sending loads of love your way!
xoxo, Team GLOSSY
Don't forget to grab our special February GLOSSYBOX: Sing, Dance, Love, Repeat!
Our Sing, Dance, Love, Repeat Edition GLOSSYBOX was motivated by the things that make us at GLOSSYBOX feel alive: music, dancing, love, friendship, and beauty! Our retro-inspired mixtape GLOSSYBOX will take you on an adventure back through time, so rock your go-to playlist and grab your favorite headphones!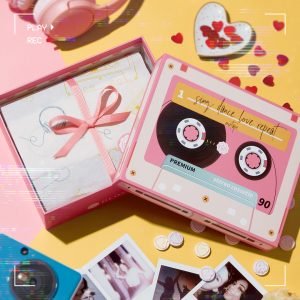 No matter what your plans are, we'll make sure your Valentines Day (or date!) is full of the care and attention you deserve.