About the Brand
Committed to making skincare that is natural, beneficial, and healthy, Melissa Jochim founded high beauty after 30 years of formulating product for the natural and organic beauty industry. With a huge fascination in the hemp plant's endurance and longevity, she wanted to harness the plant's qualities to formulate incredible skincare, suitable for any age. Her brand became one of the first brands to create an entire skincare range with hempseed oil as the hero ingredient.
What is Hempseed Oil?
Hempseed oil is exactly what it sounds like – the oil found in the seeds of hemp plants.
It wasn't until recently that changes in legality and attitude made it possible to dive into deeper research on the plant and the benefits it has to offer. Scientists discovered and proved that hempseed oil is extremely nutrient dense.
The key benefits of hempseed oil are its anti-aging properties and its ability to neutralize the skin's inflammatory response. The perfect combination for your skin!
For your skin to reach its maximum potential, high beauty combines hempseed oil with other certified organic plant oils, antioxidants, and essential oils. The brand's formulas contain a range of natural ingredients that your skin craves. They call this BioCanna, which includes hempseed oil, bioflavonoids, and terpenes.
About the High Maintenance Cannabis Peeling Mask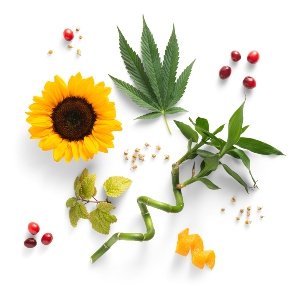 High maintenance's high powered ingredients include a plelthora of botanical ingredients, including bamboo stem powder, pineapple extract, mandarin peel, and more!
How To Use:
Using the peeling mask once a week, apply a generous amount to damp skin.
Gently massage with a circular motion for several minutes to remove impurities and dull skin.
Rinse thoroughly with a cloth for a smooth finish.
Let Us Know!
Did you love the High Beauty High Maintenance Cannabis Peeling Mask? 
Leave a review on the product so we can give you GLOSSIES more of what you love in upcoming boxes this year!
Plus, you can earn Glossy Credit to use with our retail partner, LOOKFANTASTIC.com, to buy the products you've received in your GLOSSYBOX!
Home to 100s of brands such as Estee Lauder, high Beauty, OLAPLEX and more, you can shop all your favorite brands without breaking the bank!
If you aren't a GLOSSYBOX subscriber and want to join our beauty community, subscribe today! Every month, you will receive a pink (or special designed) box full of beauty and skincare products with a value over $60, for just $18 a month!