While there are some of us out there who would easily call themselves gym rats, it's safe to say for many of us, our preferred cardio is shopping. The good news is that working out doesn't always have to be a drain, and in fact, there are ways to make it a refreshing, recharging and even a relaxing experience. To get the low-down on best practices for getting your fitness experience into gear, we asked the pros at CYBEROBICS for some tips and tricks that could be easily folded into your everyday lives. Below, our findings:
Pre-workout
Before (and after) any work out it's important to be in the right mindset. We recommend some quiet moments to get to a focused, zen state of mind. Get your body into the right frame, from the inside out, by also making sure to consume some high-protein in combination with high-quality fats and carbs. In addition to enhanced green juices and smoothies, we recommend easy on-the-go snacks like these delicious protein-packed powerballs, recommended by our friends at CYBEROBICS, if you're craving something sweet but also substantive.
What you need:
5 oz. almonds

2 oz. cashews

2 oz. oats

8 dates

1 tbsp. chia seeds

3 oz. dried cherries

2 tbsps. coconut  flakes
What you do:
Combine all of your ingredients and place them in a blender until the texture is sticky. Roll the batter into bite-size balls (a little smaller than golf ball size). Now coat, or roll, the balls in leftover coconut flakes. Stick them in the fridge to keep them nice and dense, and take them with you, wherever you go!
Time to Sweat
What better place to find dynamic, heart-thumping workouts than through your CYBEROBICS app? After downloading and registration, you'll have your choice of exercise, trainer, difficulty level and even location for fitness that is both fun and body-shaping. From dancing with LA-based hip-hop stars to practicing Pilates in the California desert to cycling in Vegas, you will have a literal world of workouts at your fingertips.
Check out the world of CYBEROBICS here, and don't forget to hydrate!
Your Perfect Gym Bag
Before you hit the gym, it's important you have your post-workout beauty needs covered with multifunctional, but simple products that keep you feeling fresh. Clear your pores of any clog-causing bacteria by using your La Roche-Posay Cleansing Facial Wipes, which remove dirt, oil, and pollution while toning skin. For those who have time for a full-on shower, we recommend skipping the gym's hand soapy body wash formula and instead luxuriating with your RITUALS Shower Foam mini, which will foam up with glorious scent. After washing and conditioning your hair (we recommend using Ouidad's incredibly restorative formulas, such as the Advanced Climate Control Defrizzing Shampoo and Conditioner), dry up and spritz on the brand's cult-favorite Advanced Climate Control Restore + Revive Bi-Phase styler, which will refresh any curly or wavy style instantly.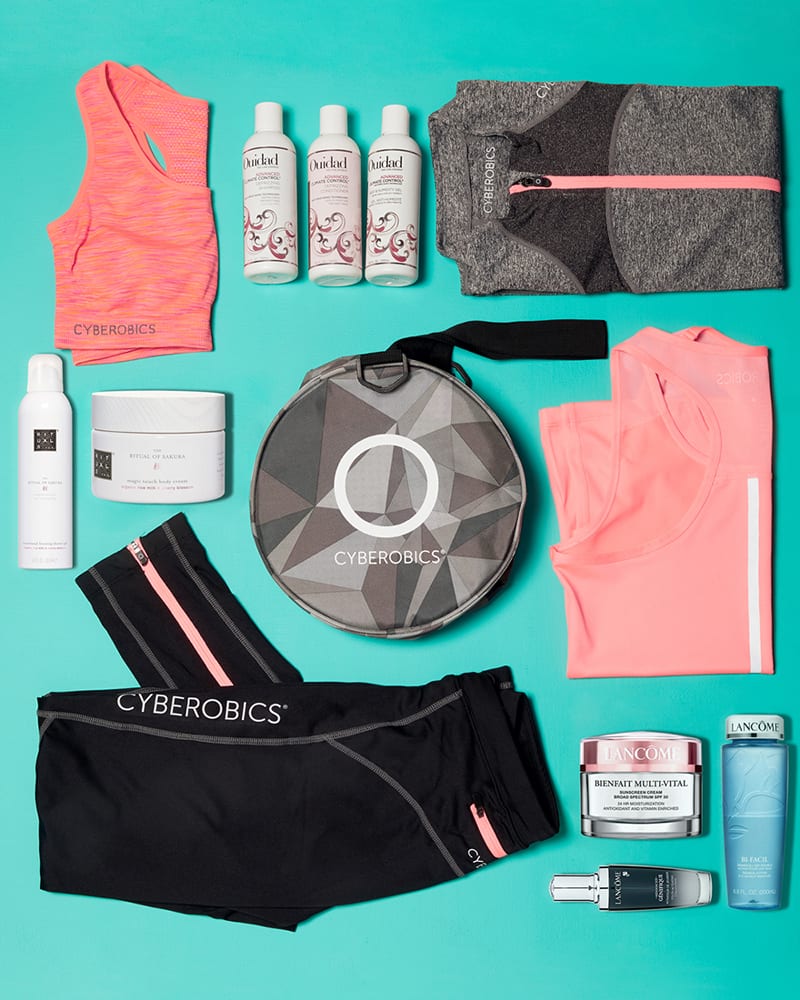 Now, let's take care of that face of yours. After cleansing with your face wipes, it's important to infuse your skin with nutrients, so it stays glowing and looking healthy. Try Lancome's Genefique Serum, a best-selling anti-aging concoction of high-performing ingredients. Next, add some moisture to the undereye area with our go-to eye formula, Mamonde Floral Hydro Gel Eye Cream, which delivers natural extracts like moisturizing narcissus bulb straight to your skin for soft, bright skin.  
Finish things off with a bit of color in the form of Skinn's hydrating Color Touch Eye, Cheek & Lip Glow. Perfect for lips, cheek and even eyelids, this multifunctional makeup product is all you need to go fro
m cardio to cocktail hour, in record time. Add a few swipes of black liquid liner (we love DHC's super pigmented version), for an extra dose of low-fuss drama.
Re-Fuel
After your workout, bring things back down a notch with a round of meditation. Find a quiet place and cross your legs, letting your hands only barely touch the ground. Apply some of DHC's ultra-calming Aroma Balm Natural Balance Multipurpose balm, which is made with emollient botanicals and natural fragrant essential oils like olive, argan, rosehip, and rosemary leaf, for an extra dose of calm. If you're feeling hungry, opt for a protein-rich snack. Here are some go-tos:
Protein shake with banana

Peanut butter and banana on a rice cake

Hummus and pita

Yogurt with fresh berries

Tuna on whole wheat

Turkey and cheese with apple slices