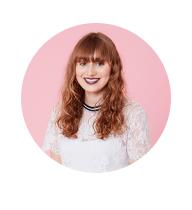 This GLOSSY REPORT is brought to you by our Beauty Editor from the UK Team, Eleanore Nash! 
Over the past six months, we've been talking about body image, mental health and women in sport, all three of which are unbelievably intertwined. The way we feel about our bodies affects our relationship with sport, how much exercise we get in turn affects our mental health, and then how that affects how we perceive our bodies. It's a vicious cycle that has detrimental effects on our health – but I'm hoping to change that. 
Body Confidence Affects Women's Participation 
In
 Sport
Did you know that, according to Women In Sport, there are 700 thousand more inactive women than men in England alone? By the time we hit the age of 13, only 8% of us girls meet the recommended amount of daily exercise (60 minutes).  
Of course, there are lots of obstacles and barriers to women taking part in sport, including practical, personal, social and cultural ones. One of the key reasons, though, is body image. 
A Vicious Cycle
Our relationship with body image and physical activity is a vicious circle: the more self-conscious we feel about our bodies, the less likely we are to take part in sport, and yet, participation in sport has a positive effect on the way we perceive our bodies. 
Add to that the stereotype that sporty women aren't attractive (because they're 'too' muscular and it isn't sexy to be sweaty) and we find ourselves in the position we are today. With women not exercising or enjoying exercise the way they should, and pre-teen girls dropping their chosen sport because they feel self-conscious when doing it. 
So, to set the record straight and show you that sporty is sexy, I spoke to Olympic Trap Shooter Georgina Roberts who represents Great Britain and Wales. Despite competing in a male-dominated sport, she still flaunts beautifully manicured nails with rings on her fingers and bracelets on her wrists at competitions because she (rightly) believes that you can be both feminine and sporty. 
Olympic Trap Shooter Georgina 
Robert
 Proves You Can Be Sporty 
And
 Feminine
Q: Have you ever been made t
o
 feel like you don't belon
g
 on the shooting range?
A: "I have, it's a male dominated sport. I've always been a very resilient person, but I've developed a very thick skin being in the shooting sport. Sometimes people are rude, sometimes people are patronising because they assume I haven't done it before.
The sweetest misunderstanding I've experienced was turning up to a ground to train and asking to join two male shooters who were already on the range. The whole way through the training round they were explaining to me what to do and how to hold a gun. After shooting 25/25 they couldn't contain their excitement and spent the next 5 minutes telling my dad (who was stood behind watching) how good I was and how I should take this up as a hobby. They were absolutely mortified when he informed them that I shot for Great Britain!" 
Q: You wear a lot of jewellery and have your nails done when you compete
. Does this give you a sense of confidence?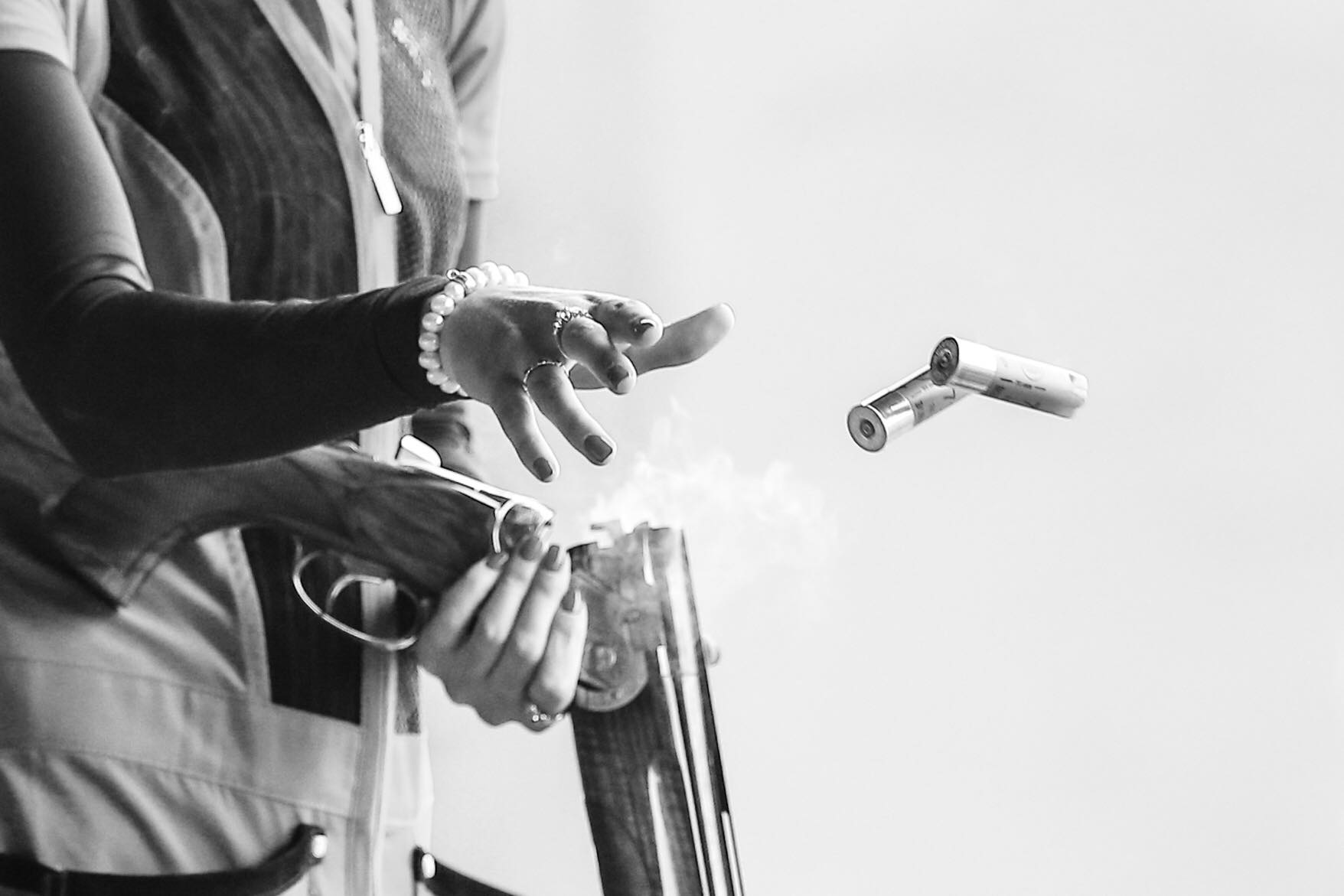 A: "Absolutely! I consider jewellery, nails and makeup my war paint"
If I look good, then I feel good – and that's when I compete at my best! 
"Even when I'm not competing, I always have my nails done. It's my 'thing'. I feel complete when I have a matching mani/pedi!"
Q: W
hat's your go‐to colour and nail brand?
A: "My go‐to is always CND Shellac! Shooting is a hands‐on sport, so polish chips off straight away. My favourite colour for nails is always red (when I'm competing for Wales – my favourites are 'Red Baroness' and 'Hollywood') or blue (when I'm competing for GBR – my favourite is 'Sassy Sapphire'). Fingers and toes ALWAYS have to match! If I can't get an emergency appointment, then I'll always go for OPI polish (my fave is 'do you sea what I sea?')! 
Q: What advice would you give to girls who are concerned that they can't be 'sporty' and 'girly'?  
A: "Of course you can be both! I wish I would have learnt this earlier. I was always the sporty one at school, but it wasn't seen as 'sexy' to try hard or get sweaty in PE. I always found myself caught in between the two. I love sports and I'm uber competitive, but who doesn't want to be sexy?! I would always throw myself into everything and then be self‐conscious afterwards when my face was red and sweaty! I just learned to love who I am and what is most important to me." 
It's so powerful to just be yourself and say yes to things you enjoy rather than to try and fit in with other people." 
Q: I
n what ways has trap shooting changed your relationship with beauty?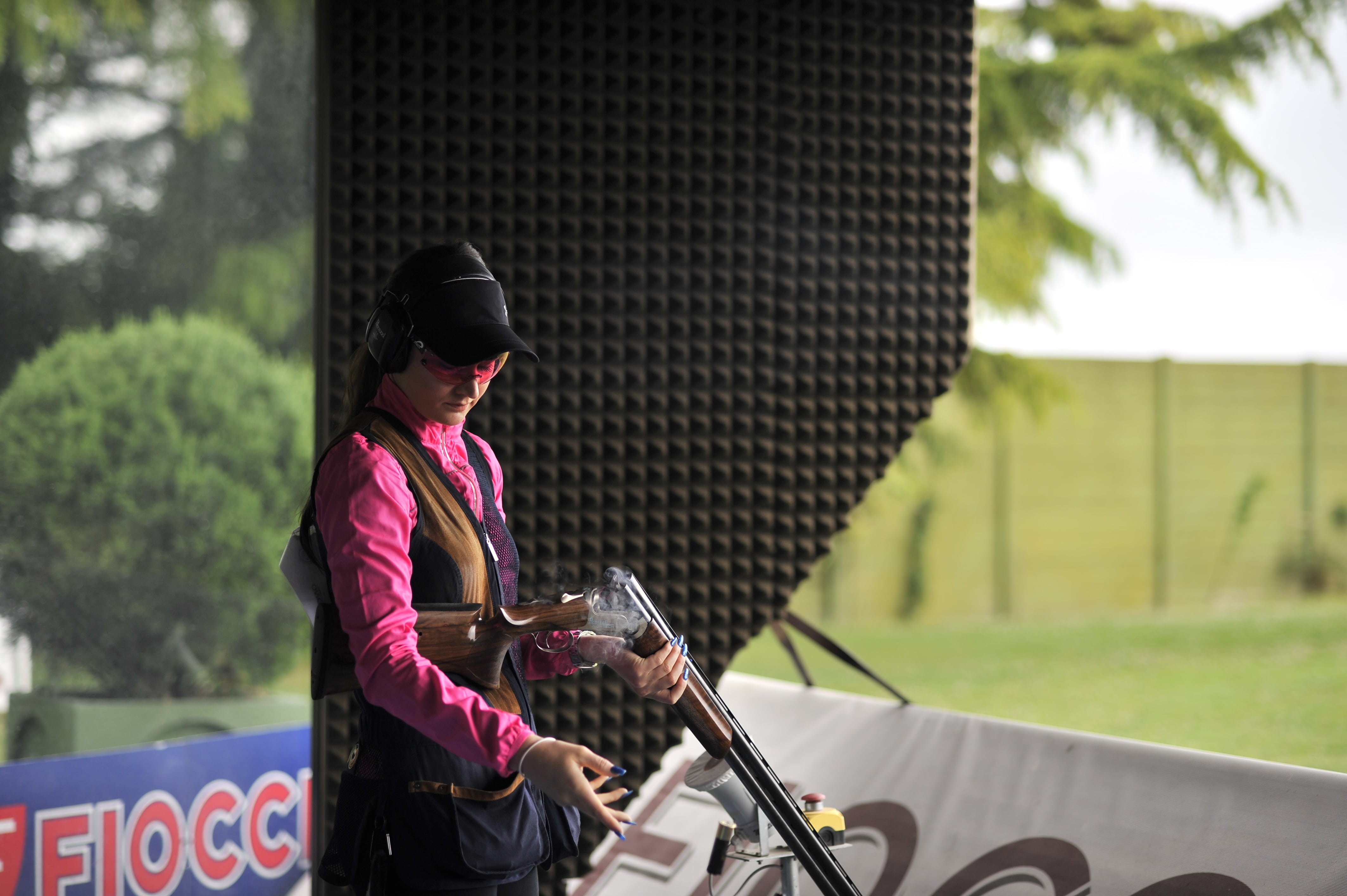 A: "It's made me love it more. I love being able to use shooting and beauty to break stereotypes! Shooting is perceived to be a sport for older men and that's absolutely not true! I love being able to walk onto the range with blue sparkly acrylic nails that match the enamel writing on my gun. People don't often expect it and I love that." 
Encouraging Girls To Be More Active
Georgina Roberts is also an ambassador for the Mintridge Foundation (you can read about that here), a charity that helps young people stay in sport.  
"The Mintridge Foundation do such incredible work and they enable me to help inspire the next generation. Shooting is a very niche sport which is surrounded by stereotypes. Being an ambassador allows me to educate people about my sport, but also encourage and support those who want to get involved but who might not know how to. Promoting sport and participation is my passion and I'm so grateful for the platform that The Mintridge Foundation provide me which enables me to do that."
#nofilter
Since the start of 2020, we've been openly talking about issues that women face every day but aren't always comfortable opening up about. Having addressed period poverty and period shame, as well as body image and body confidence, we're now talking about all things mental health. You can find out more about why it is such a taboo subject here, or how sport can help you cope with difficult situations here.