We've been dying to share this news with you, Glossies! We're launching our very own skincare range, GLOSSYBOX Skincare, and we've tailored it just for you.  
GLOSSYBOX Skincare 
Was Made 
For
 You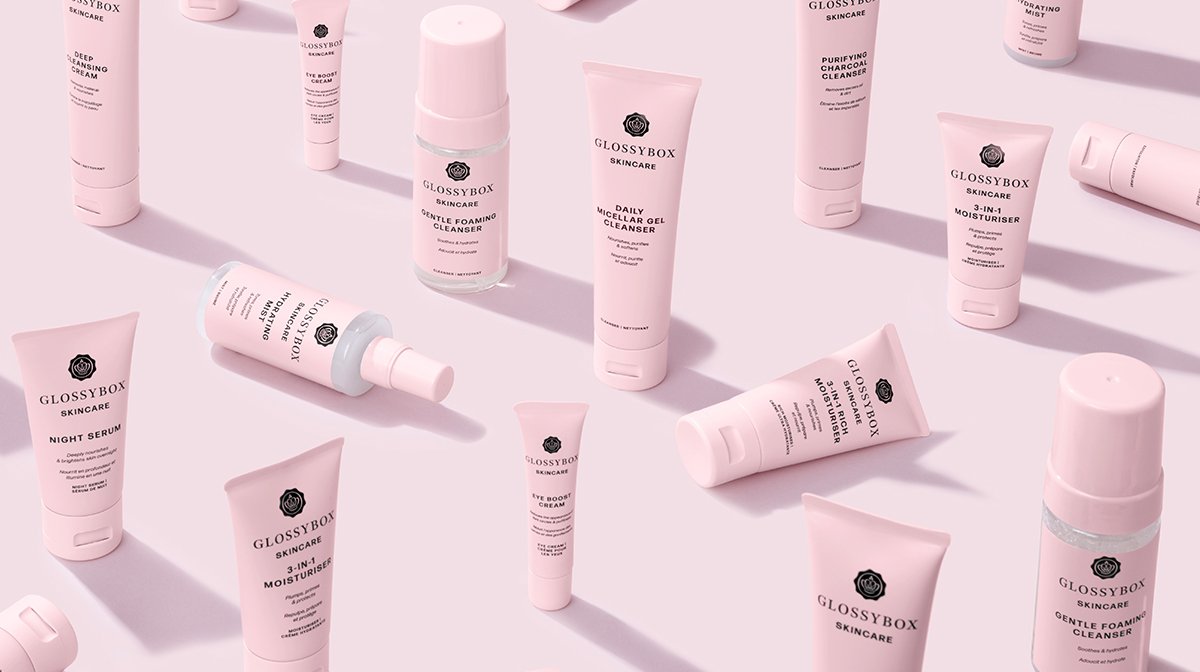 We've spent the last nine years listening to your feedback about what you want from your skincare to introduce you to the best brands out there through our subscription service. Now though, we're taking it one step further and have developed our own skincare range with you in mind.  
The result? A range of ten different products (including exfoliators, cleansers, moisturizers, hydrating mists, eye creams and night serums) that are simple, affordable, and effective. Each one has been tailored to specific skin concerns, so you can mix and match them to create your personalized skincare routine.  
It's All About

 

Simple, Effective, No-Nonsense 

Products

 
We know how much you value transparency. That's why our products are formulated with three luscious key ingredients that are simple yet effective. Together, their unique and powerful formulations can transform your skin, leaving it feeling hydrated, nourished and soothed. Better yet, we outline what each of these three ingredients do on our packaging, so you know exactly what you're putting onto your skin and how it's working its magic. 
You'll also find specific step-by-step instructions on how to use your product on the side of the box, so you can always achieve the best possible results. 
We've Made It Affordable Too! 

 
Costing between $20-$28 if you're a GLOSSYBOX subscriber, we wanted to bring you premium quality products at an affordable price. Plus, a few of the products in our range are multifunctional and allow you to make your skincare routine as efficient and effective as possible, all whilst saving you from splurging on unnecessary products. 
And Kept 

The

 Environment At The Forefront Of The Range

 
We wanted GLOSSYBOX Skincare to be as eco-friendly as possible. Not only are all formulations vegan, cruelty-free and at least 87% natural, but they come in packaging made of sugarcane (where possible) that is 100% recyclable. We even used 100% renewable electricity and created zero landfill waste in our manufacturing sites. Plus, all of the products are made in the UK.
What's In The Range?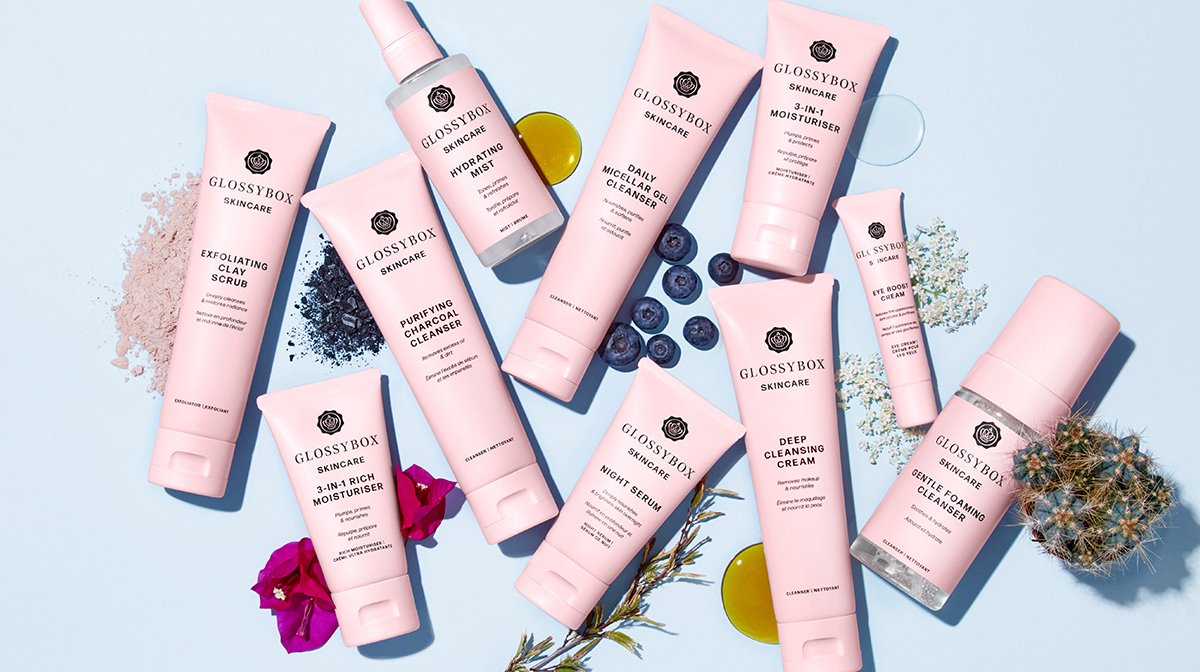 1. Deep Cleansing Cream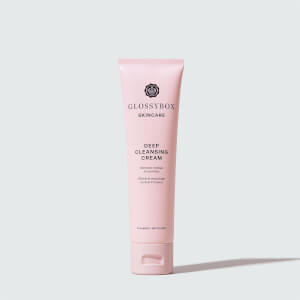 If you use a lot of heavy makeup, prepare to fall in love! Creamy and indulgent, this cleanser blends inca inchi, babassu and tsubaki oils to wash away impurities and remove even the most stubborn of makeup in just one use. No need to double cleanse!
2. Gentle Foaming Cleanser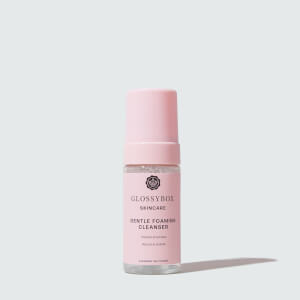 If you have sensitive skin but want a great clean, this is the cleanser for you! Gentle and fragrance-free, it combines cactus stem, resurrection leaf and kangaroo paw flower extracts to remove dirt and impurities, whist soothing, hydrating and refreshing your skin. Say goodbye to irritation!
3. Daily Micellar Gel Cleanser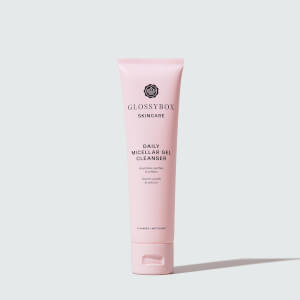 This is your go to everyday cleanser. The gel formula uses micelles to wash away light makeup, as well the dirt that has accumulated on your skin throughout the day. It then blends blueberry seed oil and cactus stem extract to hydrate, soothe and nourish your skin.
4. Purifying Charcoal Cleanser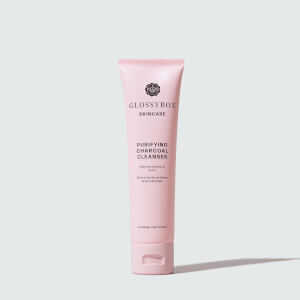 Though suitable for all skin types, this cleanser is the ultimate purifier for oily complexions. Boasting activated bamboo charcoal, biodegradable exfoliation beads and peat leaf, it washes away dirt, impurities and excess oils. It also gently buffs away dead cells, leaving you with cleaner, softer and smoother skin.
5. Exfoliating Clay Scrub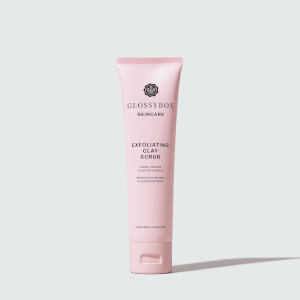 Your weekly deep scrub just got better! Combining a rice exfoliator and glossy-pink Cornish clay with lactic and glycolic acids, this exfoliator buffs away dead cells and cleanses your pores, all whilst leaving your skin feeling hydrated. It's the secret to a radiant complexion!
6. Hydrating Mist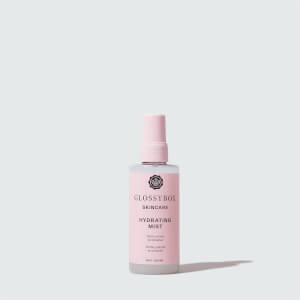 Who doesn't love a multipurpose product? Blending hyaluronic acid, inca inchi oil and babassu oil, this mist can be used as a toner, primer and hydrator to soften and nourish your skin. Better yet, it feels so refreshing when you apply it!
7. 3-in-1 Moisturizer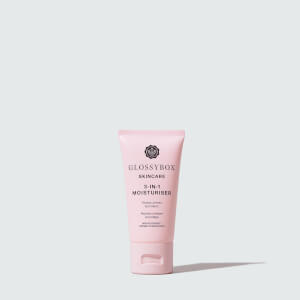 Treat your oily or combination skin to a burst of hydration and create the perfect base for your makeup thanks to our 3-in-1 Moisturiser! Lightweight yet powerful, it blends hyaluronic acid, tsubaki oil and red seaweed to plump, prime and protect your complexion, whilst nourishing and smoothing it too.
8. 3-in-1 Rich Moisturizer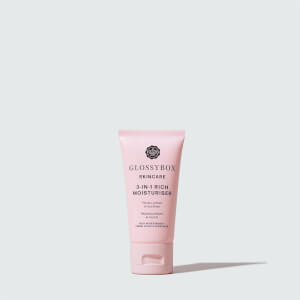 Treat your very dry skin to an intense hydration boost with this richer, more indulgent moisturiser. It blends hyaluronic acid, camelina oil and inca inchi oil to hydrate and nourish even the driest complexions, whilst also creating a great base for your makeup.
9. Eye Boost Cream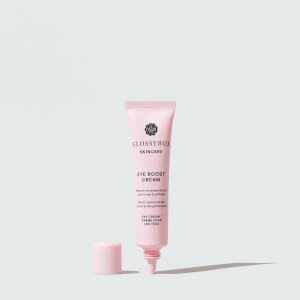 We've all struggled with dark circles and puffy under eyes, so we've created the ultimate treatment! Boasting a luxurious blend of elderflower, eyebright and red seaweed extract, this fragrance-free cream helps to reduce those bags and refresh tired-looking eyes. You can thank us later!
10. Night Serum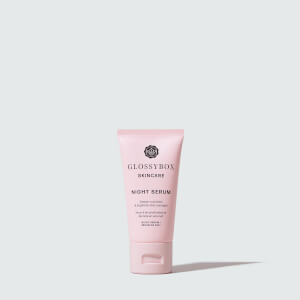 We've brought beauty sleep to life with this serum! It deeply nourishes and brightens your complexion overnight as glycolic acid, blueberry oil and persian silk tree extract breathe new life into your dull, tired skin. You'll wake up with a hydrated and illuminated complexion.
BONUS:Muslin Cloth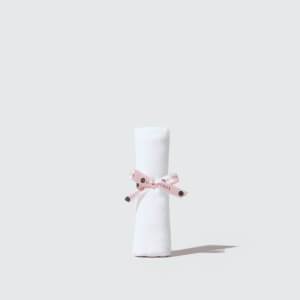 Made with 100% muslin cotton, this makeup bag essential is sure to become a staple in your skincare routine. Thanks to its woven texture, it helps to exfoliate your skin, buff away dead skin and remove impurities. Better yet, it works great alongside all four of our Cleansers and our Exfoliating Clay Scrub, and can also be used to remove face masks.
GLOSSYBOX Skincare Offers A Tailored Routine Just 
For
 You
We know that you all have your individual skincare needs and a one-size–fits-all approach just doesn't cut it. That's why our range offers a variety of products that tackle different skin concerns. Most are suitable for all skin types, but we have developed a few for specific troubles like sensitivity or oiliness.  
Feel free to mix and match our products and tailor your routine to your specific skincare needs though! 
How, When 
And
Where 
To Buy GLOSSYBOX Skincare
As a GLOSSYBOX subscriber, you will receive an exclusive 20% discount on the full range. You also get priority access and can purchase your products from 9am on the 12th of August. General sale will start at 12pm that same day.  
To purchase your skincare or find out more about each of the products, head to glossybox.com. You can also keep up to date with the latest GLOSSYBOX news on Instagram at @glossybox_us.
We hope you're as excited as we are! 
Subscribe To GLOSSYBOX
To receive an exclusive 20% discount on the GLOSSYBOX Skincare range and get priority access, subscribe to GLOSSYBOX now.