This month's #NoFilter series is focusing on the history and celebration of Pride Month!
The History of Pride Month

According to the Library of Congress, Lesbian, Gay, Bisexual, Transgender and Queer (LGBTQ+) Pride Month is currently celebrated each year in the month of June to honor the 1969 Stonewall Uprising in Manhattan. The Stonewall Uprising was a tipping point for the Gay Liberation Movement in the United States.
In the United States the last Sunday in June was initially celebrated as "Gay Pride Day," but the actual day was flexible. In major cities across the nation the "day" soon grew to encompass a month-long series of events.
Today, celebrations include pride parades, picnics, parties, workshops, symposia and concerts, and LGBTQ Pride Month events attract millions of participants around the world. Memorials are held during this month for those members of the community who have been lost to hate crimes or HIV/AIDS. The purpose of the commemorative month is to recognize the impact that lesbian, gay, bisexual and transgender individuals have had on history locally, nationally, and internationally.
In 1994, a coalition of education-based organizations in the United States designated October as LGBT History Month. In 1995, a resolution passed by the General Assembly of the National Education Association included LGBT History Month within a list of commemorative months. National Coming Out Day (October 11), as well as the first "March on Washington" in 1979, are commemorated in the LGBTQ community during LGBT History Month.
The First Pride March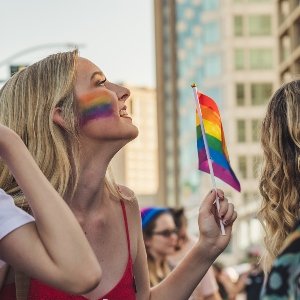 The first Pride march in New York City was held on June 28, 1970, on the one-year anniversary of the Stonewall Uprising.
Primary sources available at the Library of Congress provide detailed information about how this first Pride march was planned and the reasons why activists felt so strongly that it should exist.
Editor's Note: For this year, the pride parade is happening on June 16th, 2021! For more events centered around pride based around the NYC area, check out this list of events here!
Just remember to stay safe, pack your bag well, and keep yourself hydrated. 
Pride is For Everyone: What Each Flag Means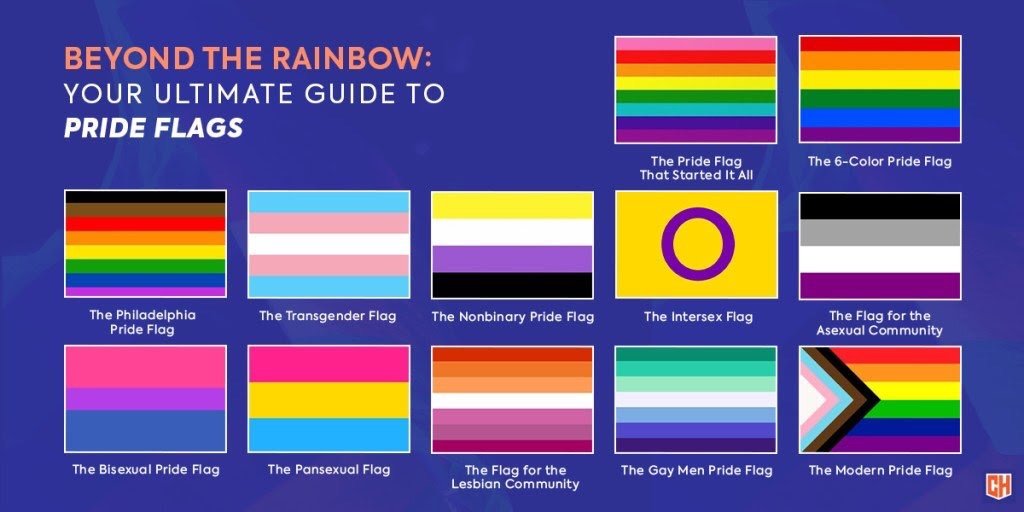 Although the most common representation of the LGBTQA+ community in regards to pride is the rainbow flag, Pride is for every member of the community and their sexual orientation and/or gender identity. Here's a quick snapshot of all the pride flags and which group they represent, courtesy of Grantown Grammar School.
Editor's Note: If you are starting your journey in the community, please don't feel pressured to have to fit into a particular box! Pride is about celebrating everyone and their journeys, not about labels and restrictions. 
Ways To Celebrate Pride
There are SO MANY ways to celebrate Pride Month! Here are a few suggestions our editors recommended for celebrating Pride this month and beyond.
Rainbow Makeup and/or Hair
Rock all the colors, or the colors of your choice, with one of our favorite makeup tutorials made by Nikki Tutorials! Years ago, Niki made a PRIDE tribute makeup tutorial that was stunning and empowering for her fans. After coming out as a transwoman last year, we feel like this tutorial has so much more meaning and power now more than ever.
Support LGBTQA+ Owned Businesses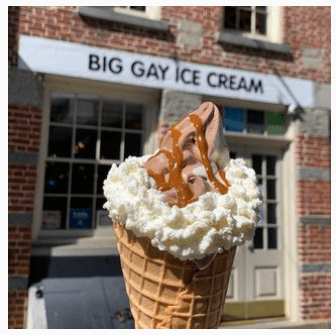 Show your support with your patronage at LGBTQA+ owned or supportive businesses!
Grab a treat at a store like Big Gay Ice Cream to not only show solidarity, but with your purchases, establishments like the ice cream shop can help support a wide range of causes including LGBTQIA+ organizations, animal shelters, homelessness, and hunger initiatives, children and education, and more.
For charities and causes you can support this month and beyond, please see the list curated by the charity navigator here!
Watch Content Featuring Positive Representation of LGBTQA+ Characters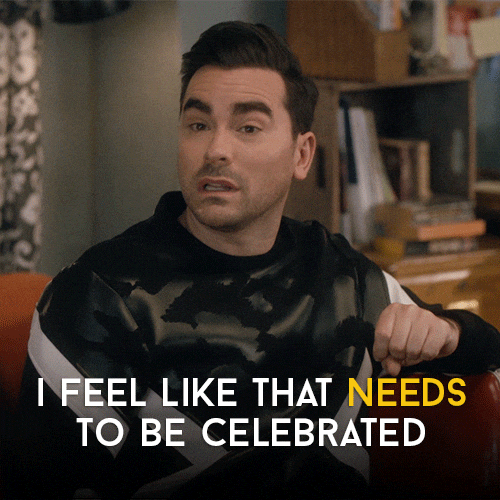 Hollywood doesn't have a shortage of depicting characters from the LGBTQA+ community, but only recently has there been a surge in positive representation in Hollywood and T.V.
Find a show to start binging (or to keep binging) to not only hear several stories about sexuality and gender identity but with every view, more of these stories can be told on the big and little screens.
We've found a few lists highlighting award-winning, groundbreaking shows and some films that are must-sees!
Editor's Note: My favorite shows are Brooklyn 99, Schitt's Creek, and a few older shows such as Will & Grace. 
However you celebrate PRIDE month, make sure to stay safe and remember to spread positive vibes for all your friends, allies, and everyone in between!