Learn about one of our most popular reoccurring Limited Editions, our Summer Beauty Bag!
The Story of Our Summer Beauty Bag
Last April, we at GLOSSYBOX did a little prank about having a GLOSSYBAG. But the fact that so many of you got excited about a GLOSSYBOX bag got us thinking at the office. And we decided to make that lighthearted April Fools prank into a reality.
Now, back for another year, our bag is full of beauty and skincare products from our favorite brands!
Golden Ticket: Win a T3 FIT Compact Hair Dryer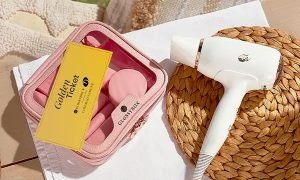 For this year's Summer Beauty Bag, we're partnering with T3 to run a Golden Ticket campaign featuring the new T3 FIT Compact Hair Dryer.
Customers who win will receive the T3 FIT Compact Hair Dryer worth $149.99!
So keep your eyes peeled!
What's Inside Our Summer Beauty Bag
Codex Beauty Bia Exfoliating Wash & Codex Beauty Bia Superfood
Use the superfood after the exfoliating wash for a smooth, refreshed complexion, the perfect pair.

Dome Beauty Eye Jewels – Chocolate Diamond
Dome Beauty's Eye Jewels provide a shimmery finish while moisturizing your lids. They have a lightweight, non-sticky feeling that will last longer than your day.
For All Skin Repair
Formulated with vitamin K for anti-aging, CBD for soothing, and arnica for anti-inflammation, this cream is used by salon estheticians after peels and waxings because of its soothing and healing qualities. It's perfect for face and body, including sensitive skin, brightening under eyes, and correcting hyperpigmentation.
Solinotes Eau de Parfum Roll-on – Fig Tree Flower
Originating in Paris, this fragrance is irresistible with its tangy and compelling blackcurrant, grapefruit and fig leaf notes, amplifying the delicate fig tree flower and peony heart. Sandalwood and fig milk delicately complete the fragrance with a creamy, vibrant accord.

Bumble and bumble Surf Infusion
This salt-meets-oil spray provides soft texture for sea-tossed waves with sheen.
Eyeko Beach Waterproof Mascara
Completely waterproof and cruelty-free, the vegan mascara delivers maximum coverage, lifting, curling and volumizing every lash with lasting effect.
AfterSpa Reusable Rounds
Remove up to 100% of the most difficult makeup using only the best, softest fabric for your skin.