Our Limited Edition Black Friday Box is full of wow-inducing products and awe-mazing experiences!
Chill out with some serious bath bombs, reveal that extra glow with some vitamin C Serum, pucker up with a luxury lip mask, and feel newer skin with an essence that's divine. See the full box reveal below! 
What's Inside the Black Friday GLOSSYBOX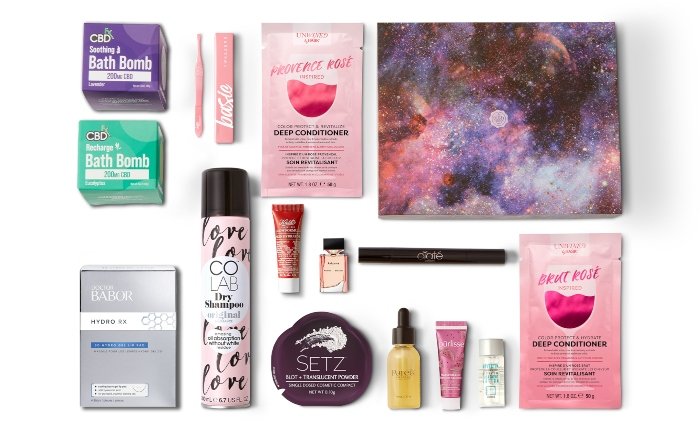 Rovectin Activating Treatment Lotion
This vegan anti-aging barrier repair complex is a powerful toner + essence that moisturizes the skin while evening texture and neutralizing free radicals. Dead skin cells are exfoliated to restore your skin's brightness.
CBDfx Bath Bomb
Are you recharging with eucalyptus or relaxing with lavender? These CBD-infused bath bombs are a great way to decompress. Filled with natural ingredients and essential oils, your joints, muscle, and skin will thank you later!
BABOR HYDRO RX 3D Hydro Gel Lip Pads
This latest innovation from Doctor Babor was developed for the sensitive skin of the lips and perfectly adapts to any lip shape. Its natural cooling effect and high dose of hyaluronic acid provide plumping hydration.
Pareik Skin Co Reface Me – Vitamin C Serum
Packed with antioxidant protection, this oil-based serum focuses on removing free radicals in sun-exposed skin. Its vegan hyaluronic acid and botanical ingredients plump and protect the skin while fading discoloration.
Proenza Schouler Arizona Eau de Parfum
Blooming with a white cactus accord and a unique mineral signature, this fragrance will give you a feeling of adventure, beauty, and mystery.
Kiehl's Glow Formula Skin Hydrator
Make your skin glow instantly with this brightening moisturizer. Infused with pomegranate extracts and illuminating minerals, your skin will be hydrated, protected, and glowing right away!
COLAB Original Dry Shampoo
Instantly refresh your roots and lose that greasy feeling with this dry shampoo. Its ability to absorb oil without leaving a white residue makes it the perfect quick fix!
HASK Unwined Provence Rosé and Brut Rosé Deep Conditioner
Say hello to softer, volumized hair this winter with these rosé inspired conditioners. Packed with wine, rose, and watermelon extracts, your hair will remain strong, soft, and hydrated for the holidays.
SETZ Beauty
Blot + Translucent Powder
Set and reset your makeup throughout the day with these easy on-the-go blotting pads. Remove excess oil and lock in your look for long-lasting wear without adding any weight or texture.
Ciaté London Stamp & Drag Liner Duo
Try out a bolder look! This cruelty-free, vegan, double-ended pen features a wing-shaped stamp and a pointed tip for the perfect winged eyeliner.
Basic Beauty Tweezers
Expertly shape your brows with these classic slant tip tweezers. The hand-filed tips grab the hair every time for minimal effort and zero discomfort during a shape-up.