Happy Holidays Glossies,
As 2020 comes to a close, we wanted to make our final box of the year extra special. Covered in shimmer and filled with joy, it truly represents the GLOSSYBOX theme of the month: The Best Time of the Year.
The Story of Our December Box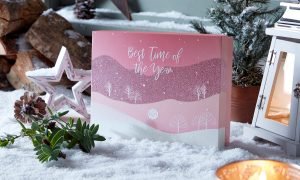 Offering the ultimate mix of Christmas parties and cozying up at home, December is our favorite month at Glossy HQ. 
This is why this month is made up of six fabulous products that are perfect for these very occasions. 
Worth over $80, our December 'Best Time Of The Year' GLOSSYBOX includes both pampering skincare products and Christmas inspired cosmetics for the ultimate pampering experience! Especially our first sneak peek, Youth To The People Adaptogen Deep Moisture Cream​!
Sneak Peek: Youth To The People Adaptogen Deep Moisture Cream
Formulated for dry, reactive, and sensitive skin, this fragrance-free moisturizer's superior plant extracts and pro-grade peptide complex make for long-lasting deep hydration without clogging pores.
The adaptogenic extract blend helps skin cope with dryness, irritation, redness, and wrinkles.
From the GLOSSYBOX Team,
We thank you for taking the journey of beauty with us this past year. It's been one full of ups and downs, excitement and uncertainty, and everything in between. Enjoy your last GLOSSYBOX curation of skincare, makeup, and hair care of 2020 and we can't wait to see you in 2021!