Happy Dispatch Day GLOSSIES!
We're so, so excited to see you open your boxes this month because we're kicking off the year with a GOLDEN TICKET GIVEAWAY! This month we're partnering with RAINCRY to run a Golden Ticket campaign featuring the CBD Repair Collection. Want to learn more? Here's the scoop on RAINCRY.
About the Brand
Founded by an acclaimed hairstylist and crafted for the true beauty enthusiast, RAINCRY has created unforgettable haircare collections and tools that blend the sophistication of renowned beauty experts, with striking luxury and exhilarating performance.
RAINCRY's 'roots' started many years ago when hairstylist / founder Feisal Qureshi was in search of replacing his beloved round brushes due to his dissatisfaction with the ones in the professional hair world.
Leaving for France, he created high-quality, high-performance brushes with the input of many other acclaimed stylists.  The resulting brushes were heralded as the best in the industry, and RAINCRY was asked to continue its product innovation.
Today, RAINCRY has expanded its luxury brand to not only include brushes, but also several award-winning haircare collections and other beauty products.
The New CBD REPAIR Collection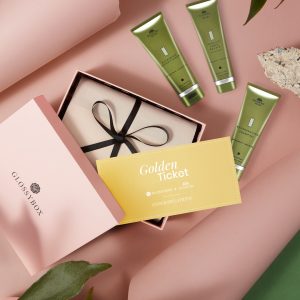 Experience the power of total scalp and hair rejuvenation with our GOLDEN TICKET PRIZE, the RAINCRY CBD REPAIR COLLECTION!
RAINCRY's new CBD REPAIR Collection is pH balanced and contains 300 mg of CBD Oil, advanced scientific ingredients and exotic plant sources to help rejuvenate damaged hair and bring new life to your scalp.
Reintroduce yourself to vitality and discover complete 360° repair!
Remember, golden tickets are randomly placed in GLOSSYBOXES, so you have to be a subscriber for a chance to win the RAINCRY Collection! We hope you had a Happy New Year, and are excited about our first 2021 giveaway!