Learn about one of our Easter Egg Features, LAPCOS!
About the Brand
LAPCOS is the one-stop beauty destination for high performance, cruelty-free skin care, body care and hair care, based on the most exciting trends and proven efficacies available. They are an affordable luxury brand born in South Korea, where they are an established leader.
Since 2017, Lapcos has become a key player within the US as well, thanks to our uncompromising devotion to quality, innovation, accessibility and transparency.
The brand's mission is to bring the most advanced Korean beauty solutions and wisdom to North America in a way that is versatile, affordable and created for all.
LAPCOS DAILY SKIN MASK PEARL
LAPCOS Pearl mask, a brightening tencel sheet mask with Pearl extract, contains anti-aging benefits to promote rejuvenation and help your skin emulate the soft, classic beauty of the gemstone. The mask's brightening essences improve and balance skin tone to reveal a healthy, illuminating complexion.
How to Use: 
Cleanse and tone your face. Unfold the single-use mask. Leave on for 10-20 minutes. Remove mask and gently pat face to absorb remaining essence into the skin. Apply any remaining essence in the pouch to your neck and body.
The Hunt is On: Keep An Eye Out for The GLOSSYBOX Easter Egg
The Easter Egg Limited Edition is back for the 3rd year in a row!
Valued at over $120, this egg is full of surprises and delights for the lucky GLOSSIES that can snag their eggs first.
But it's more just an eggceptional collection of products from premium brands and treats.
The Golden Eggs
Keep your eyes peeled for the golden eggs this year! There are 32 golden eggs with prizes that will be sent to some lucky GLOSSYBOXES that order the Easter Egg Limited Edition. Receivers of the golden egg can redeem a FOREO Bear, worth a total of $299!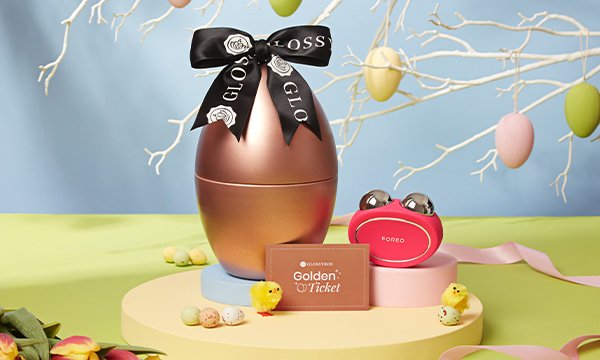 About the FOREO Bear
With a variety of microcurrent facial workouts, the FOREO Bear is your pocket-sized personal trainer for your face. By gliding the microcurrent spheres over your skin to build collagen, repair elastin & tighten your face via electrical currents that mimic your body's own natural processes, you effectively give your face an exercise routine! The result? Youthful, radiant skin!
Make sure to stay in the know this year, and DON'T miss any announcements, by signing up for the waitlist!