Me, my bestie, and the rest of the GLOSSYBOX team are huge fans of the relaxation station. It's our favorite stop. But for those who don't want to go anywhere (me) due to financial, social, or other reasons, we at GLOSSYBOX came up with a quick guide on making your home feel more like an oasis with a few tips!
Tip No. 1: Combine Color + Comfort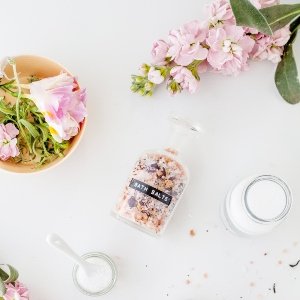 Did you know that color has a psychological effect on your mood? "We might not be able to put our finger on it, but color is often what makes us love something—or dislike it," artist, author, and designer Rebecca Atwood tells Apartment Therapy. "I always recommend thinking about a landscape or some other physical space that you love and pulling the colors from that."
Having a few things that make you feel ah-mazing is the first step to making home feel like a mini vacation. For me, its comfy slippers, candles, and a space to chill and vibe after work. 
And that space, for me, is my rainbow coordinated library or the corner of the couch next to my bluetooth for some serious chillhop vibes. Your space can be a designated yoga mat, a chair to lounge in, or anything intended to be part of your calm space that coordinates with a color that brings you joy.
For building your own workout routine, especially in yoga, check out our blog here.
Tip No. 2: Build a 'Wind Down' Routine
As a Glossie, you have probably mastered the morning and the evening beauty routines to keep your skin looking it's absolute best. 
Don't worry, this isn't another beauty routine! But we do suggest creating a wind down practice to ready your body for rest. Not only is it theraputic, but by dedicating time to rest, you can improve your sleep time. 
A Few Ways to Prep for Rest: 
No digital device use (T.V., phone, anything with a blue screen) 45 minutes before bed

Either start your evening beauty routine immediately after work or have a time for it

Read a book

Listen (keyword: listen) to a podcast

Take a luxurious bath with a

scented candle 
Have a cup of hot cocoa or tea